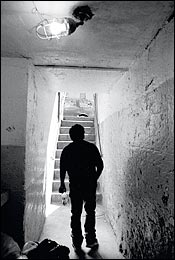 Most jurisdictions hold that basement apartments are illegal. For example, from the Town of Hempstead Building Department where I reside:
" Under no circumstances are basement apartments permitted"
But let's go to NYC: what if the basement apartment was registered as a rent stabilized apartment but was still illegal?
DMARC 2007-CD5 212th ST. LLC v. RIJO, 2016 NY Slip Op 50053 - NY: Appellate Term, 1st Dept. 2016:
"We sustain the dismissal of these consolidated holdover proceedings. Inasmuch as tenant's basement apartment was registered as rent stabilized, and his most recent rent stabilized renewal lease for this unit has not yet expired, landlord's commencement of a holdover proceeding based upon allegations that tenant's "month-to-month" tenancy of an unregulated apartment was terminated, was properly dismissed. Although landlord alleges that the basement apartment is not legal, "[l]andlord, in seeking a remedy against the tenant, must follow the procedural requirements of [the Rent Stabilization] [L]aw ... [i.e.,] an eviction proceeding [pursuant to] ... [RSC] § 2524.3(c)" (Hudsoncliff Bldg. Co. v Chandler, 279 AD2d 423 [2001]; see Aron Realty Holdings, Inc. v Pollack, 2002 NY Slip Op 50210[U] [App Term, 1st Dept 2002]). In view of our disposition, we have no occasion to address such issues as whether the basement apartment is incapable of legalization or whether legalization would be unduly burdensome (see Zaccaro v Freidenbergs, 10 Misc 3d 143[A], 2006 NY Slip Op 50096[U] [App Term, 1st Dept 2006]; 625 West End, Inc. v Howard, 2001 NY Slip Op 40496[U] [App Term, 1st Dept 2001])."