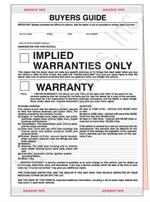 Recently, I bought a used car and I almost had to walk away from the deal when the car dealership refused to sign the proper used car warranty papers. Review the paperwork carefully and remember that you are entitled at least to the following:
"Cars Covered by the Used Car Lemon Law Include any car that:
was purchased, leased or transferred after the earlier of 18,000 miles or two years from original delivery; AND
was purchased or leased from a New York dealer; AND
had a purchase price or lease value of at least $1,500; AND
has been driven less than 100,000 miles at the time of purchase/lease; AND
is used primarily for personal purposes.
Statutory Warranty Length:
| | |
| --- | --- |
| Miles of Operation | Duration of Warranty (the earlier of) |
| 18,001-36,000 miles | 90 days or 4,000 miles |
| 36,001-79,999 miles | 60 days or 3,000 miles |
| 80,000-100,000 miles | 30 days or 1,000 miles" |
Of course, you can negotiate for more coverage.
For some good advice on buying a used car, see
https://www1.nyc.gov/site/dca/consumers/shopping-goods-used-car.page