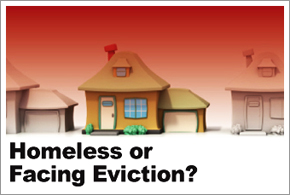 From the Nassau County website:
"Shelter placements and assistance with emergency housing needs are provided at the Department of Social Services (DSS) under the auspices of the Nassau County Office of Housing and Community Development (OHCD).
Eligible individuals and families can, on an emergency, temporary basis be assisted with shelter and other items of need to help them meet their emergency and move as quickly as possible to a stable self-sufficient role in the community.
Housing Programs & Requirements
If a family or individual is threatened with eviction or foreclosure, assistance may be available to save the current housing. These emergency programs are:
These benefits do have specific eligibility requirements, and each case receives the attention of a worker with specialized knowledge in this area. Applications for eligibility should be made as soon as the potential problem becomes known.
Following approval of eligibility by DSS, OHCD will proceed with providing for emergency housing assistance."
See
https://www.nassaucountyny.gov/1921/Housing-Homeless-Prevention